I'll get back to Penang, but first here's a piece stolen from NZ Herald about KL, some time-filler ideas here
A city worth pausing to appreciate
Kuala Lumpur is a great place for a stopover — whether on your way to Europe or elsewhere in Asia — or even before a tour of the country itself
Kuala Lumpur, my guidebook tells me, has a less-than-enticing meaning.
The name, in Malaysian, means "muddy confluence", after its location at the junction of the Klang and Gombak rivers. But since the 1860s when the first houses appeared there and a trading post was established, the settlement has become home to around 2 million Malays, Chinese and Indians (closer to 6 million if you count the surrounding region).
So, faced with a few days' stopover in KL, I set out to discover what there is to see and do.
I was keen to try the monorail system - which has a 8.6km line through the central city - so for my first outing I crossed to the closest station to the hotel, (Medan Tuanku) and paid the RM1.20 (40c) for the trip Bukit Nanas, one short stop away.
I spent twice as long as I should have in the pounding heat trying to find how to get to the KL Tower, which seemed to be enclosed by trees. The trees turned out to be the Bukit Nanas Forest, the only tropical rainforest left in the city.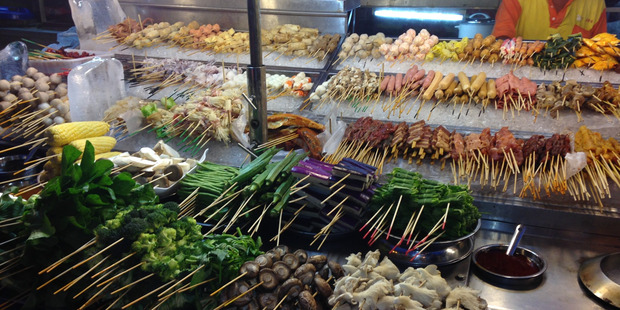 A food stall on Jalan Alor. Photo / Sue Baxalle
The free shuttle up the hill to the tower came as a welcome relief as I was already dripping from my long walk.
You can either ride to its observation deck 276m up (RM49) or go all the way to the open deck at 421m (RM99). The day was grey and hazy so I decided on the first option. The view drives home the enormity of the city - in both width and height.
The main point of interest was the Petronas Towers, the tallest buildings in the world for six years until Taipei 101 was completed in 2004.
Another sight to see on the observation deck level was a 110-year-old Jelutong tree, growing in the rainforest.
While at the tower I got talking to K.C, who runs the Durian Cafe - one of a chain of stores devoted to this smelly favourite of Malaysians. K.C. explained how many people say the durian smells like rotten meat but he loves it, likening it to the distaste some have for strong blue cheeses.
Unfortunately no fresh durian was available but he had a "genuine plastic" model on show.
Durian-based treats included crepes, waffles and a variety of boxed items such as biscuits, jellies and coffee.
Bird Park, Kuala Lumpur. Photo / Sue Baxalle
I was curious to try something but lacked courage when faced with two squares of durian crepes - even at just RM4 I didn't want to risk being unable to finish them, so I opted for a durian icecream on a stick at RM2. It had an unusual taste, but I didn't find it too revolting. A photo KC showed me in the shop had a couple holding a sign saying "Durian: smells like hell, tastes like heaven".
The first part I'd go along with, but sorry, KC, the taste was far from divine.
Next it was back to the monorail station of Raja Chulan and a two-stop ride to Maharajalela, the closest stop to Chinatown.
Wow. This was like being in an enormous $2 shop, with an overwhelming amount of goods of varying quality everywhere.
I took a taxi to the bird park, the biggest free-flight park in the world, as it seemed the best way to avoid having to cross the crazy streets, and the heat.
Though not all the park's birds are native to Malaysia, it was an experience to get up close to many feathered creatures. You can even have your photo taken with a hornbill, owls and macaws.
A pea**** was putting on a display for a lady friend. I don't know whether she was impressed, but he drew a large crowd of human onlookers.
Before heading back to the hotel, I squeezed in a visit to Central Market. Though not as hectic as Chinatown, there was an overwhelming array of arts and crafts from wood and silver to batik, sand art and paintings.
Also at Central Market I came upon a fish spa where I had a 15-minute fishy pedicure for RM10. After a minute or so of giggles - my feet have always been ticklish - I settled into it and the feeling was quite pleasant until one of the nibblers got a bit carried away with a blister on my ankle and it was no longer fun.
A short walk away was the Masjid Jamek underground station, named for the impressive Moorish-style mosque nearby. Also near the Central Market sits KL's first skyscraper. Well-dwarfed now, it is an attractive, lattice-style building.
The thing that struck me as I roamed the city streets is just how incredibly built up KL is. However, getting around is quite easy, with the monorail and the underground trains of Light Rail Transit (LRT) both using a token system. Of the two the monorail is more pleasant - if only for the view.
On day two I was quite keen to get away from the concrete jungle, so headed to the Batu Caves. There are tours of KL and its surrounds that take in the caves along with other sights, but for the more adventurous it is a quick taxi ride to a train station that takes you straight to the cave.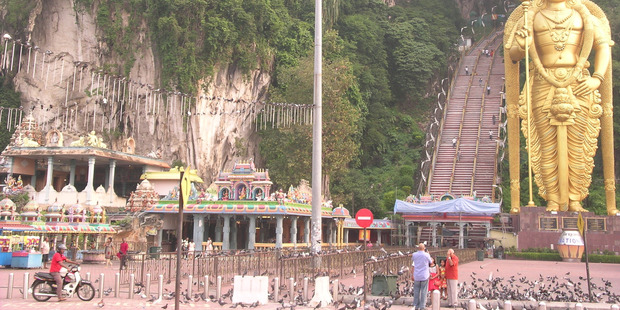 The Batu Caves are amazing, from the awe-inspiring staircase leading up to the mouth (272 steps up) alongside a giant golden statue of the Hindu god of war, Lord Murugan (42.7m high), to the incredible caves and statues within. Monkeys scampered around in search of snacks within - a little scary as we'd heard tales of their aggressive behaviour, though the only aggression we saw was when one ventured into a shrine and was shooed away by a man wielding an umbrella.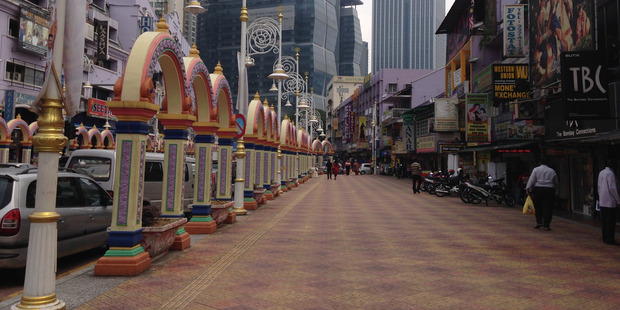 The spacious Little India. Photo / Sue Baxalle
From there it was back to KL and Little India. In total contrast to Chinatown, we were amazed with how spacious the area is. Officially known as Brickfields, there are Indian-style arches lining the streets and fascinating stores full of glittering Indian jewellery, furniture and clothes.
Ask just about anyone in Malaysia what their hobbies are and they are bound to include eating. That comes as no surprise, given the amount of restaurants and street sellers everywhere, especially on the Jalan Alor.
By day it is a fairly unremarkable street, lined with a restaurants of variety of ethnic cuisines from the three Malay mainstays to Vietnamese and Thai - frog porridge, anyone?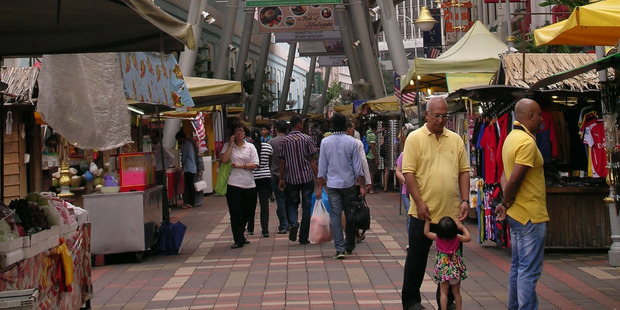 Packed Chinatown. Photo / Sue Baxalle
From late afternoon, however, it transforms into a bustling and colourful night market. Make sure you are hungry before you go is the best advice.
The other principal Malaysian hobby seems to be shopping - and they are spoiled for choice. As well as the lower budget fare of the streets, huge shopping malls abound.
KL's malls are open from 10am to 10pm 365 days a year, a factoid one of our guides was proud to tell us was a benefit of living in a multiracial, multireligious country.
In the Bukit Bintang area - the shopping and entertainment hub of KL - we visited two huge malls, the fashion-oriented Sungei Wang Plaza and the upmarket Lot 10.
As seems to be the norm in KL, each floor focused on a theme, such as all womenswear, all menswear, children - and in this mall, the sports floor even boasted its own basketball court.
The glitzy and glamorous KL Pavilion is worth a visit just for the people-watching, but the most amazing is Berjaya Times Square Mall. Levels 5 and 7 of this 12-storey complex are a theme park - pure heaven for all ages. A roller-coaster zooms around the centre and there's a fantasy garden with a range of rides and games for younger kids. There's an archery centre, 10-pin bowling and even a snooker parlour with foosball tables.
The attraction KL locals seem the most proud of, however, is the Petronas twin towers.
The 88-floor steel and glass-fronted towers are an example of modern architecture complemented by traditional Muslim art motifs. They are a feature of the city, like our Sky Tower visible from far and wide, but their presence is best appreciated at night.
My last hours of sightseeing were back to nature, with visits to the butterfly park and the neighbouring orchid gardens.
The butterfly park is advertised as the largest of its kind in the world and though the interior galleries with butterfly collections and other insects were interesting, they were somewhat shabby.
The orchid gardens, in comparison, were stunning. Taking up just 1ha of the 69ha Perdana Botanical Gardens, originally developed in 1888, there are thousands of blooms - 800 species, I was told. What's more, if you visit on weekdays, entrance is free.
I left KL feeling I'd only skimmed the surface of this vibrant and varied city - I'll be back.
The impressive Moorish-style Masjid Jamek mosque